Players have the ability to save the levels they've created, upload and publish them. They will receive a unique 8-digit code for every level to share with other players. Other players can either load the levels into their treehouse by accessing the computer in the underground and entering the codes or by finding them in the level browser (only if they're published). Levels can be saved locally and online from ingame by using the rulebook.
Most custom levels are built by placing custom level parts in a blank level in free play mode.
The Level Loader
Edit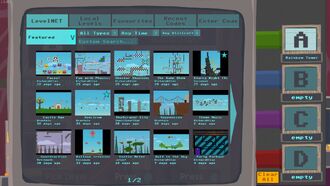 This terminal has five tabs that offer different sources for loading levels. The leaderboards for the fastest challenge mode times can be viewed here. Players can also favorite, save, share, report and vote on any custom level through this interface.
Tab 1: LevelNET Edit
The level browser shows all published levels and allows players to easily find new levels made by other people. It features a host of different sorting and searching options.
Tab 2: Local Levels Edit
This is where locally saved levels are stored. They can be uploaded, deleted, renamed and favorited.
Tab 3: Favourites Edit
Here players can view all the levels they have favorited so far.
Tab 4: Recent Codes Edit
This tab shows the 50 most recently up- or downloaded levels.
Tab 5: Enter Code Edit
Every level has a unique 8-digit code which can be entered here to load them. This is especially useful for loading levels that have not been published to the LevelNET.